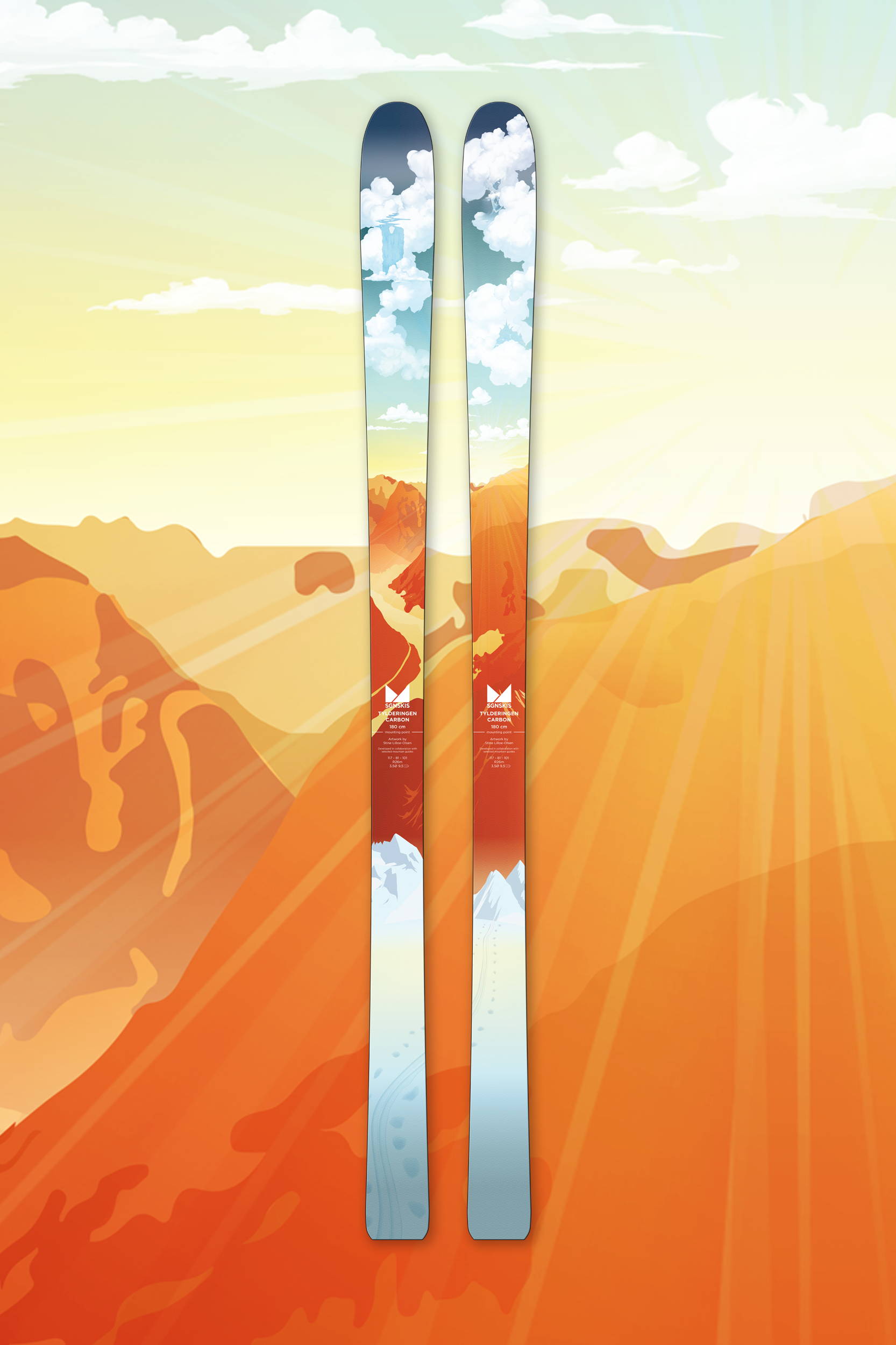 For the days where the snow is firmer and you are planning to go for a long tour we have created Tylderingen Carbon.
---
TIP: 112 MM / WAIST: 79 MM / TAIL: 97 MM
TIP: 114 MM / WAIST: 80 MM / TAIL: 99 MM
TIP: 117 MM / WAIST: 81 MM / TAIL: 101 MM
TIP: 120 MM / WAIST: 82 MM / TAIL: 102 MM
Starting the ascent early in the morning before the sun have had time to soften up hard crust of yesterday, this narrow waisted ski is a great companion. The size and shape of Tylderingen makes traversing even the steepest slopes a breeze. Combined with a low weight and a touring tip and tail skinning up is effortless and with minimal drag.
After letting the panoramic view at the top soak in for a bit it is time to point the tips down towards the fjord. The low rocker tip and tail as well as the full wood-core makes the Tylderingen go like a freeride ski. Carves with ease and lots of stability on both spring slush, crust and wind-pack.
The extra lightweight version, Tylderingen Carbon, meets the weight conscious skiers demands, while compromising as little as possible on the downhill performance. Definitely the right tool for the more demanding mountaintops.
Designed to suit all skins, with a customizable large ABS plastic tail. There is a small kick in the tail to reduce drag from you skin-clip while touring.
A traditional cambered design gives you stability and versatility on any condition. On hardpack a camber design is unmatched.
With a thinner and lighter wood core than our traditions skis its designed for long days touring. The shape of the tip will also help reduce drag when skinning up.

Poplar is a lightweight wood material, while bamboo is a strong, responsive and bouncy wood. Combined it's a lightweight, responsive and fun core.
Our scratch free top sheet is developed to endure the abuse your skis go through. Its pattern is design to not collect snow while touring, reducing the weight on each foot.
The ski has a durable Okulen 7150 base. On our touring skis the base is ground for all conditions, but will excel on wet snow, typically found during spring skiing.
A sandwich construction delivers uncompromised power transmission and exceptional torsional stiffness in a durable long lasting package.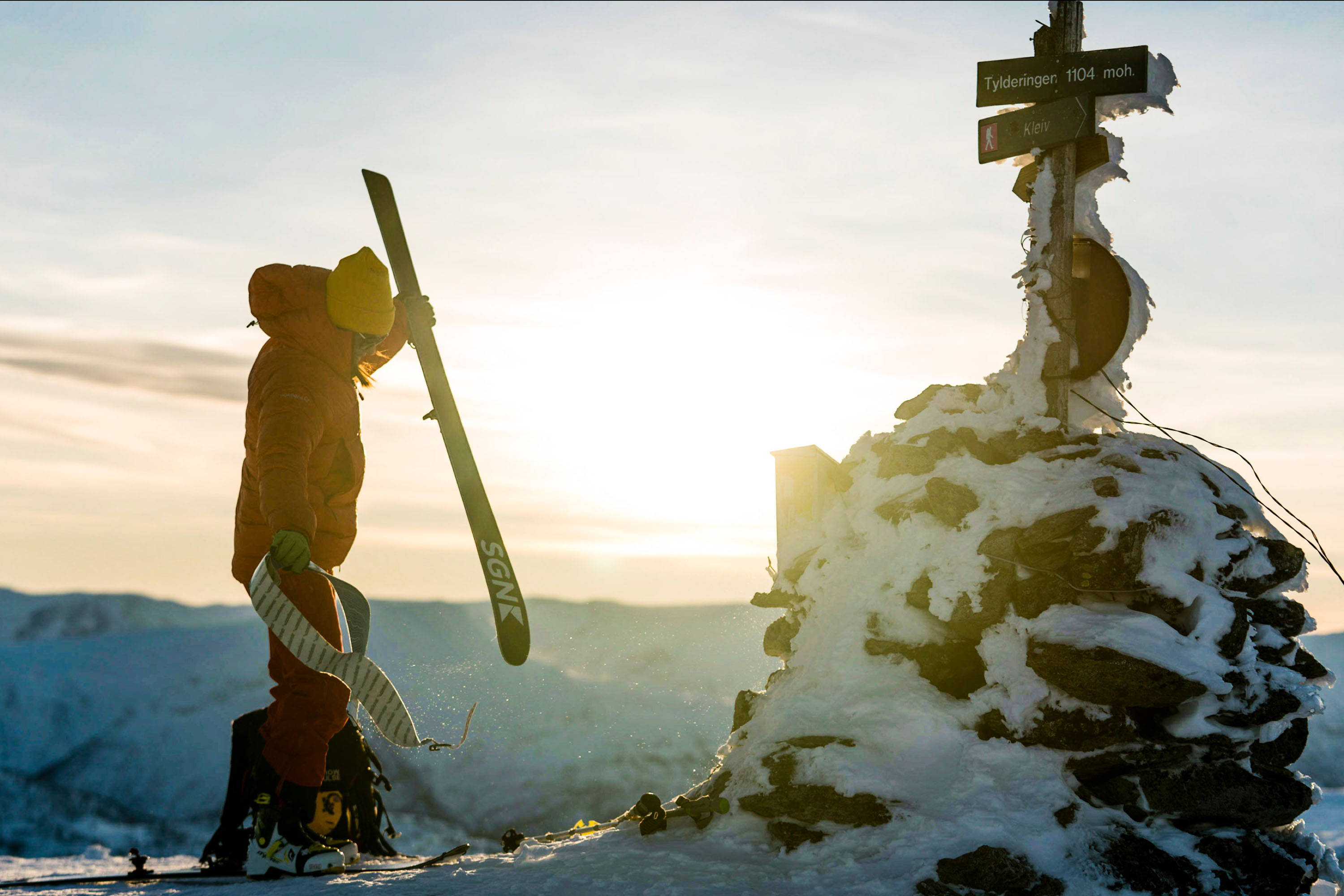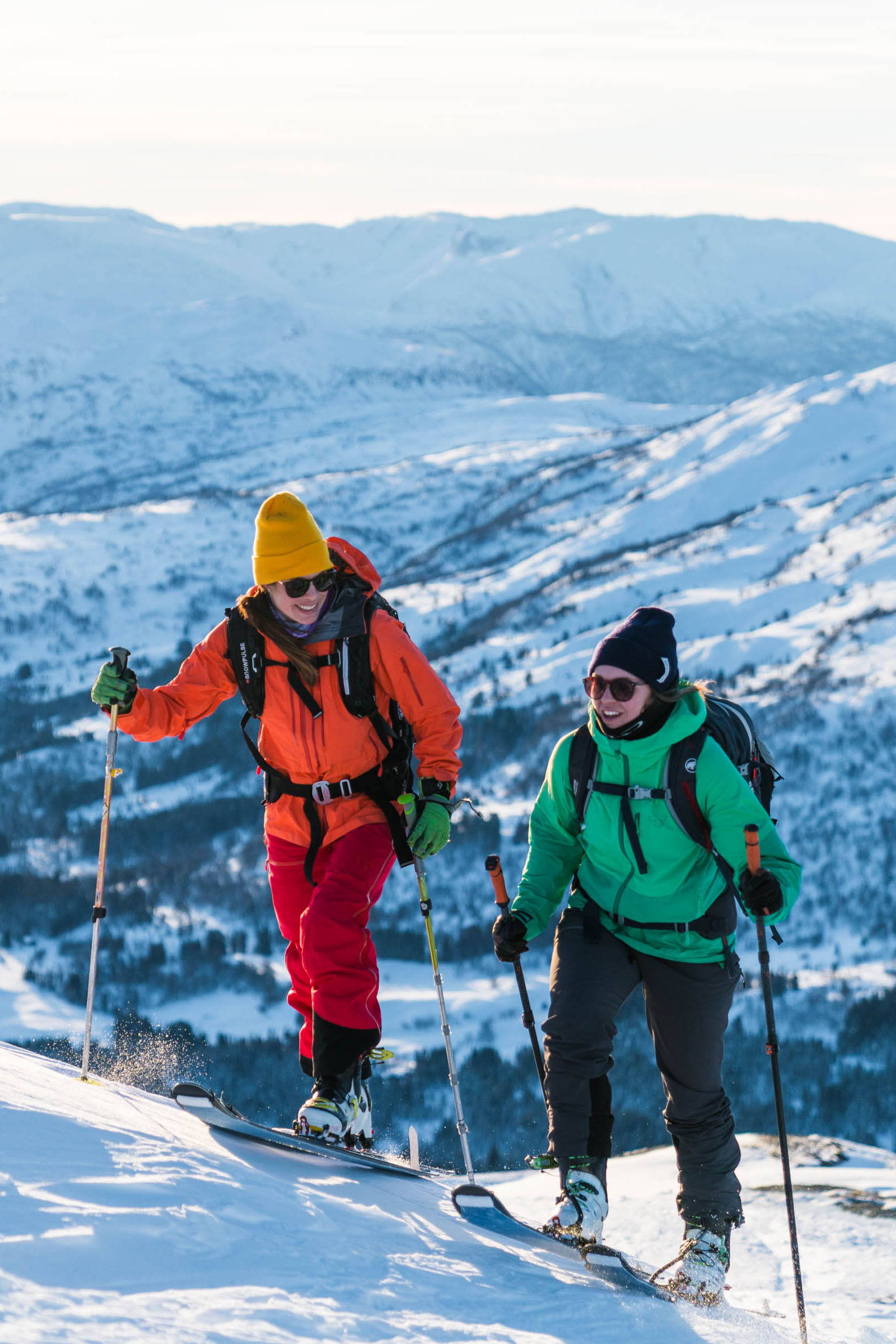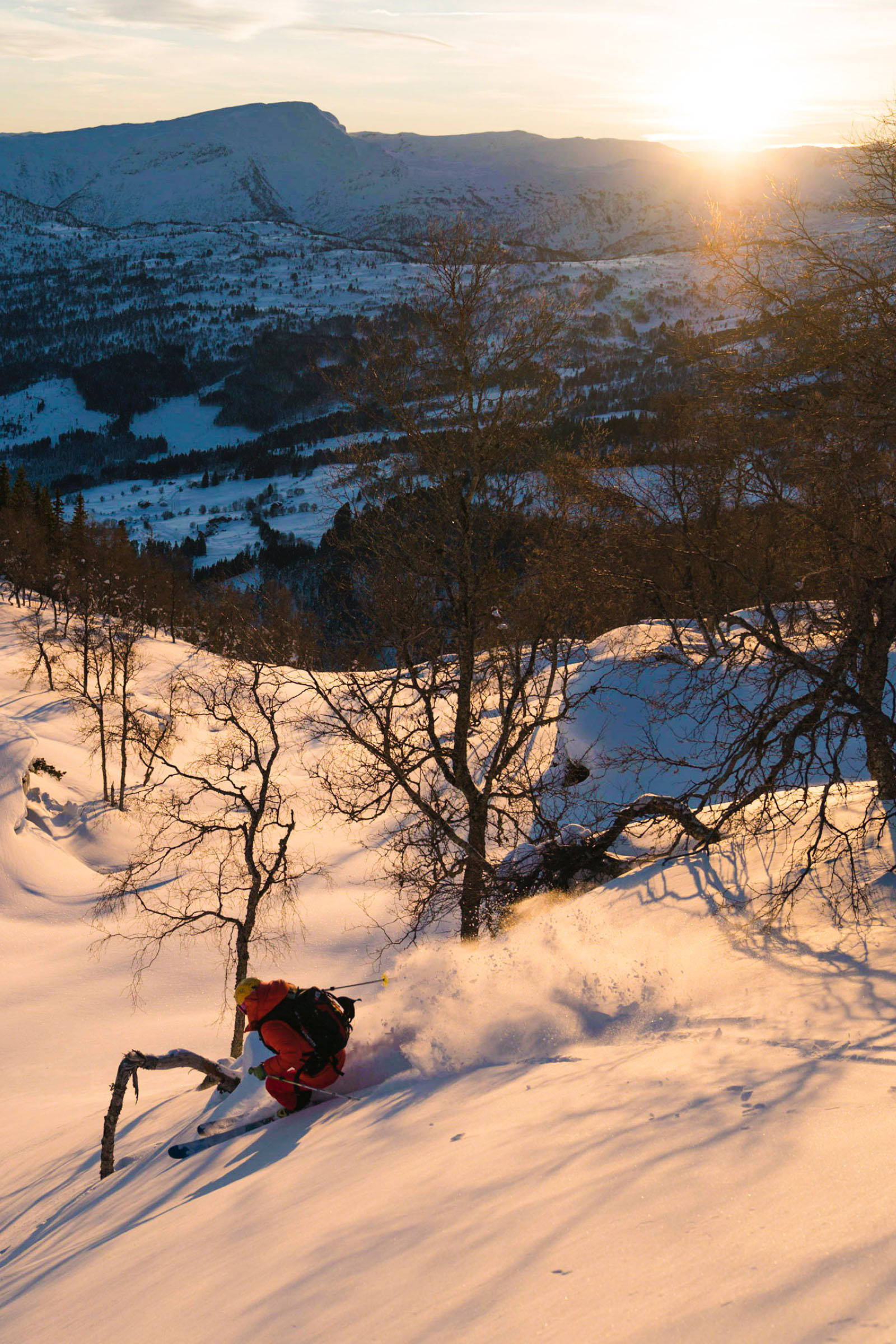 Tylderingen Carbon is just really fun to ski. Easy to turn, and sticks like glue on the hardpack. Definitely a ski for the longer tours without making the decent a downer.
- Marit Svarstad Andresen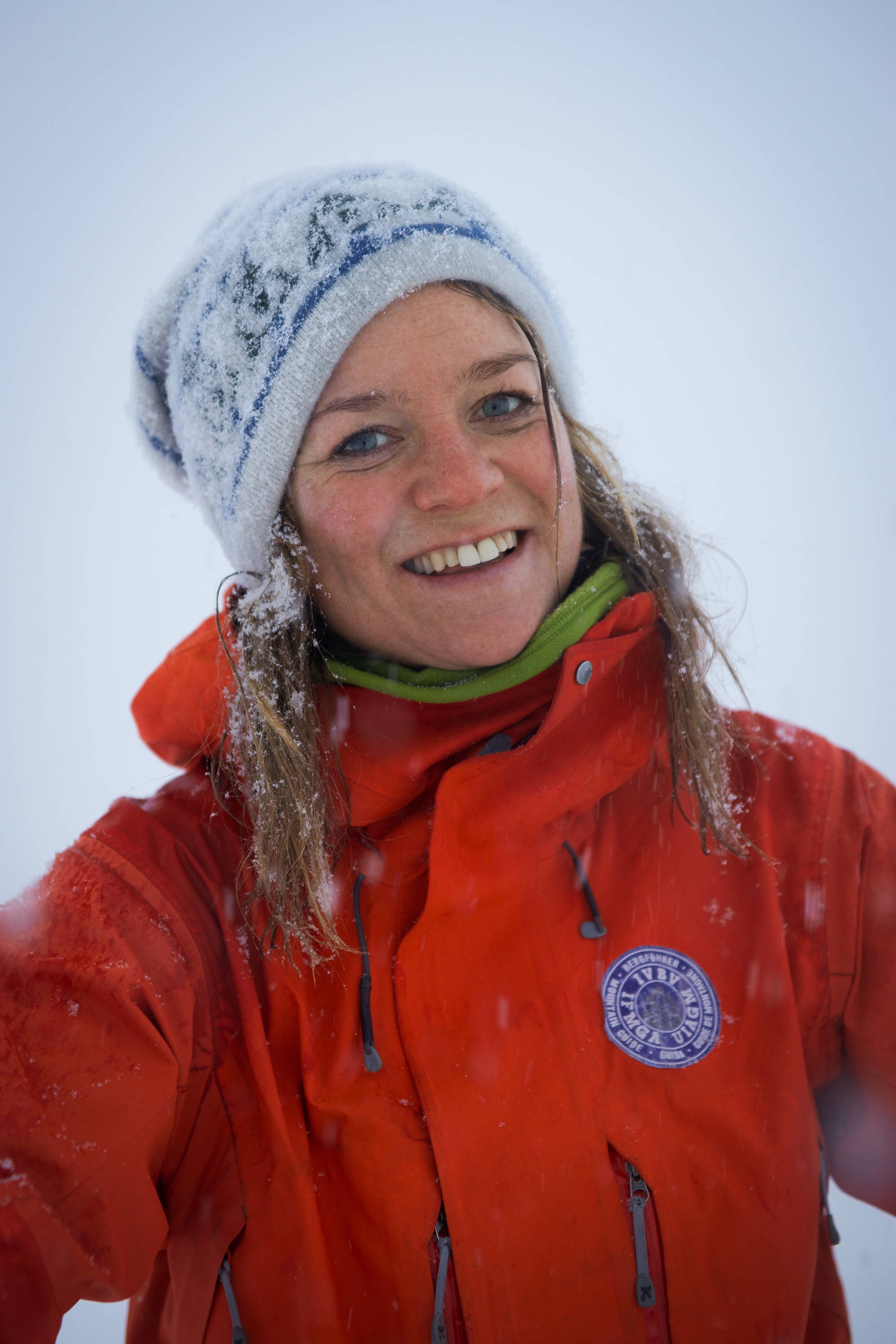 GRAPHICS BY STINE LILLOE-OLSEN
Norwegian ski touring is deeply rooted in our culture, and was a main mean of transportation in the past. Today, it is still used for transportation, but who says you can't enjoy it as well? Tylderingen was designed for the longest tours, but can still match your standards for the way down the mountain as well. The design has elements from a local legend around the mountain Tylderingen. It tells the story on how a woman was taken by the "Huldri". They were tailed creatures who lived in the mountains, and she was to be wedded with a man of their kind in a church that was a large rock. The church can still be seen on the way up to Tylderingen.
What other skiers have to say about this ski!