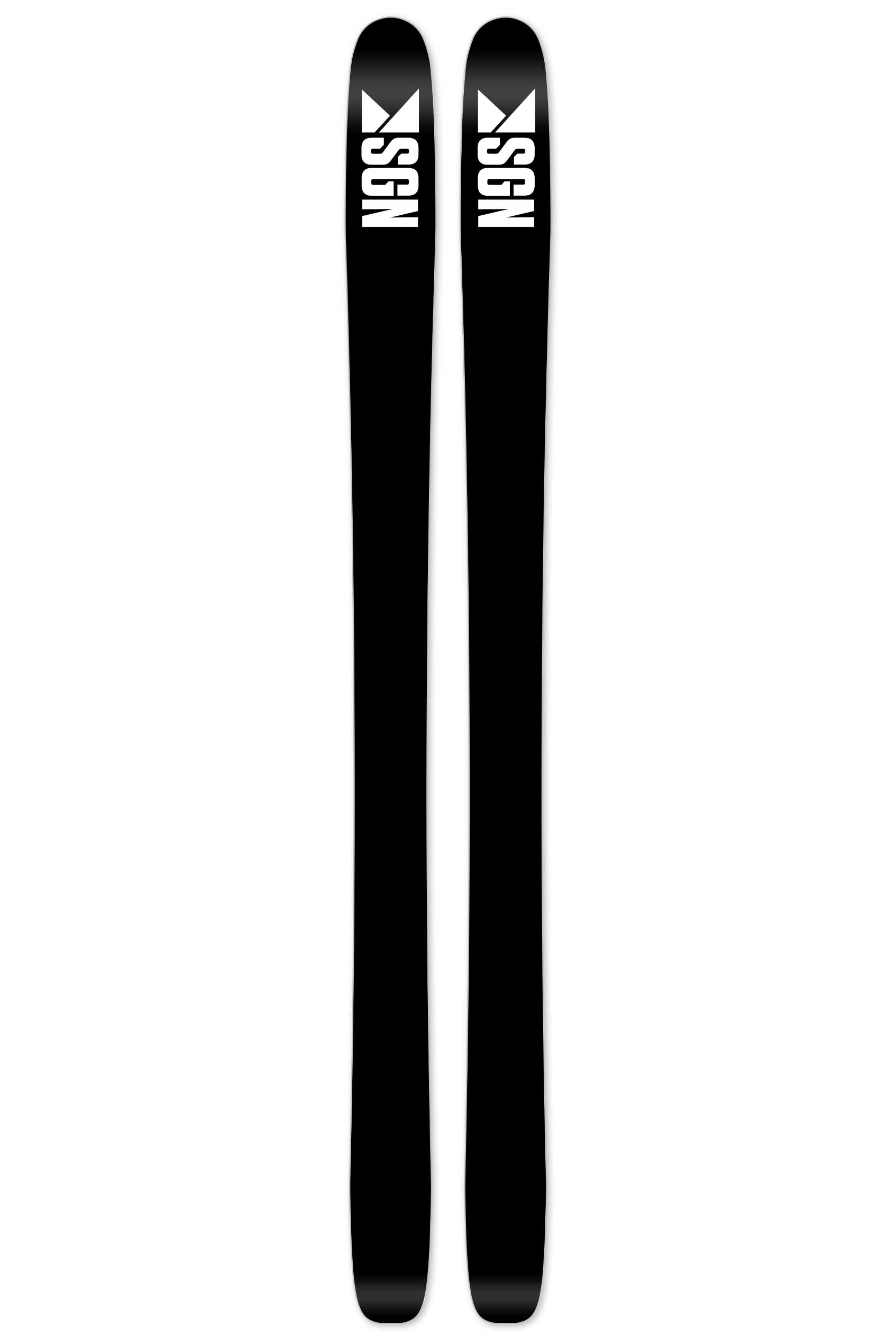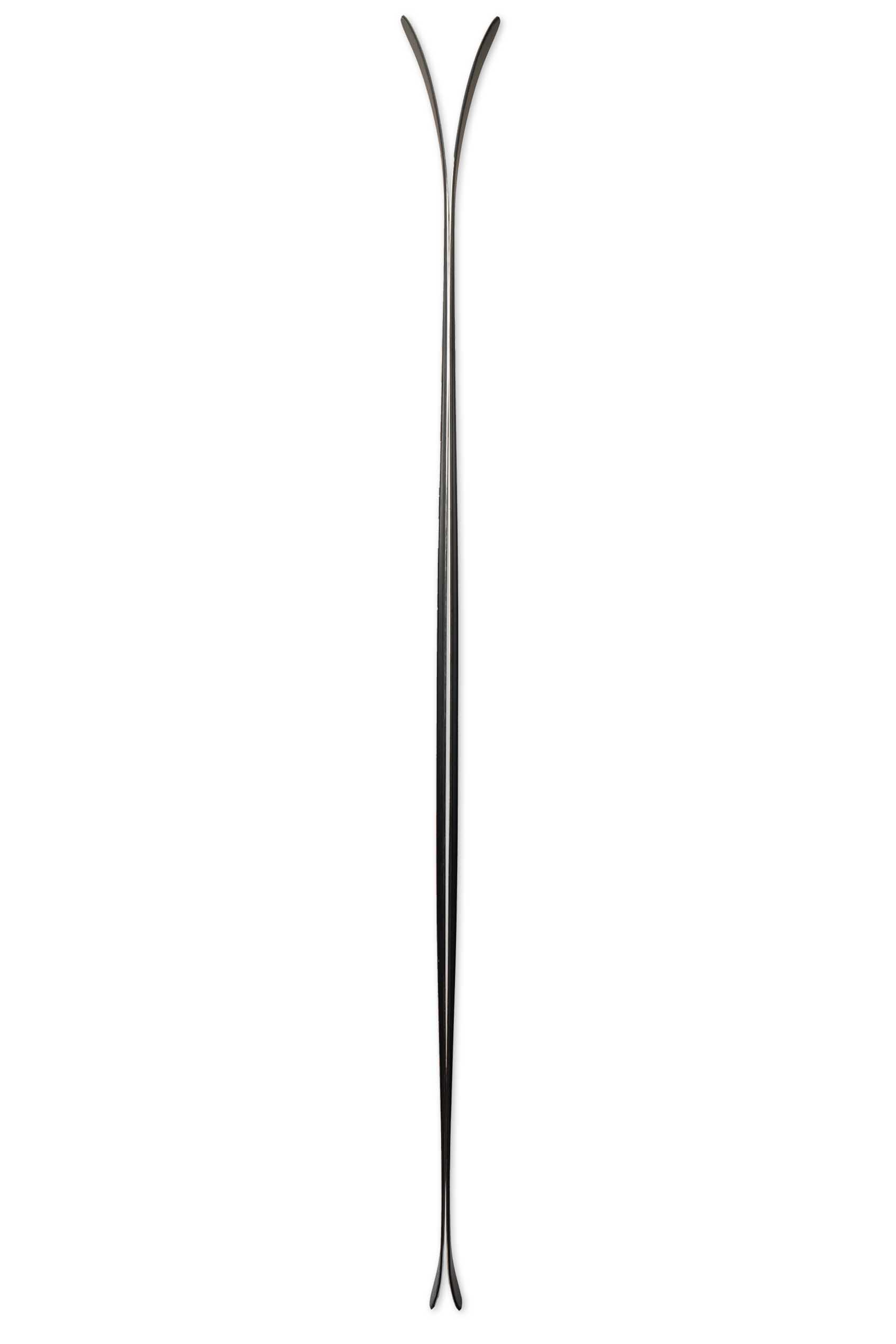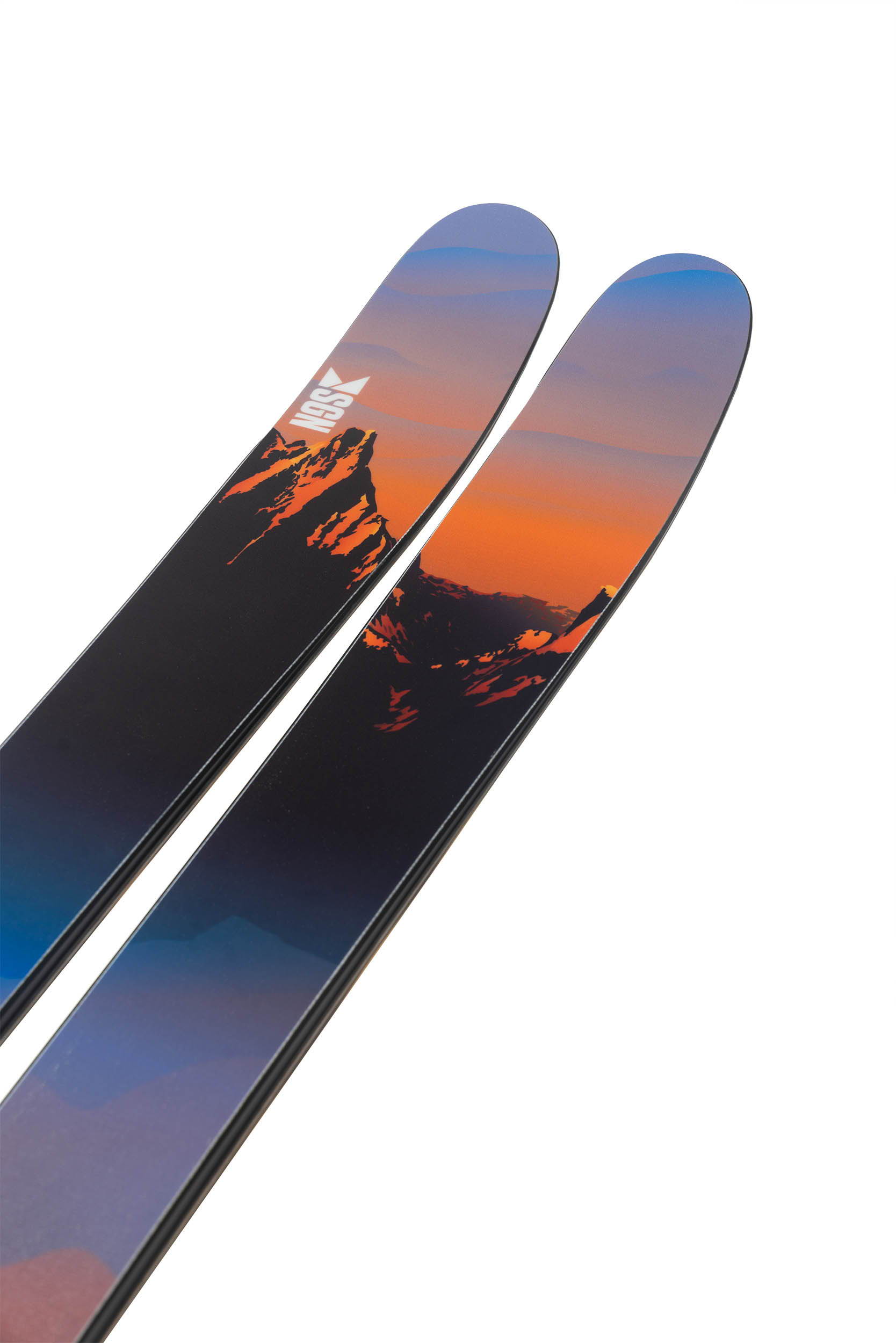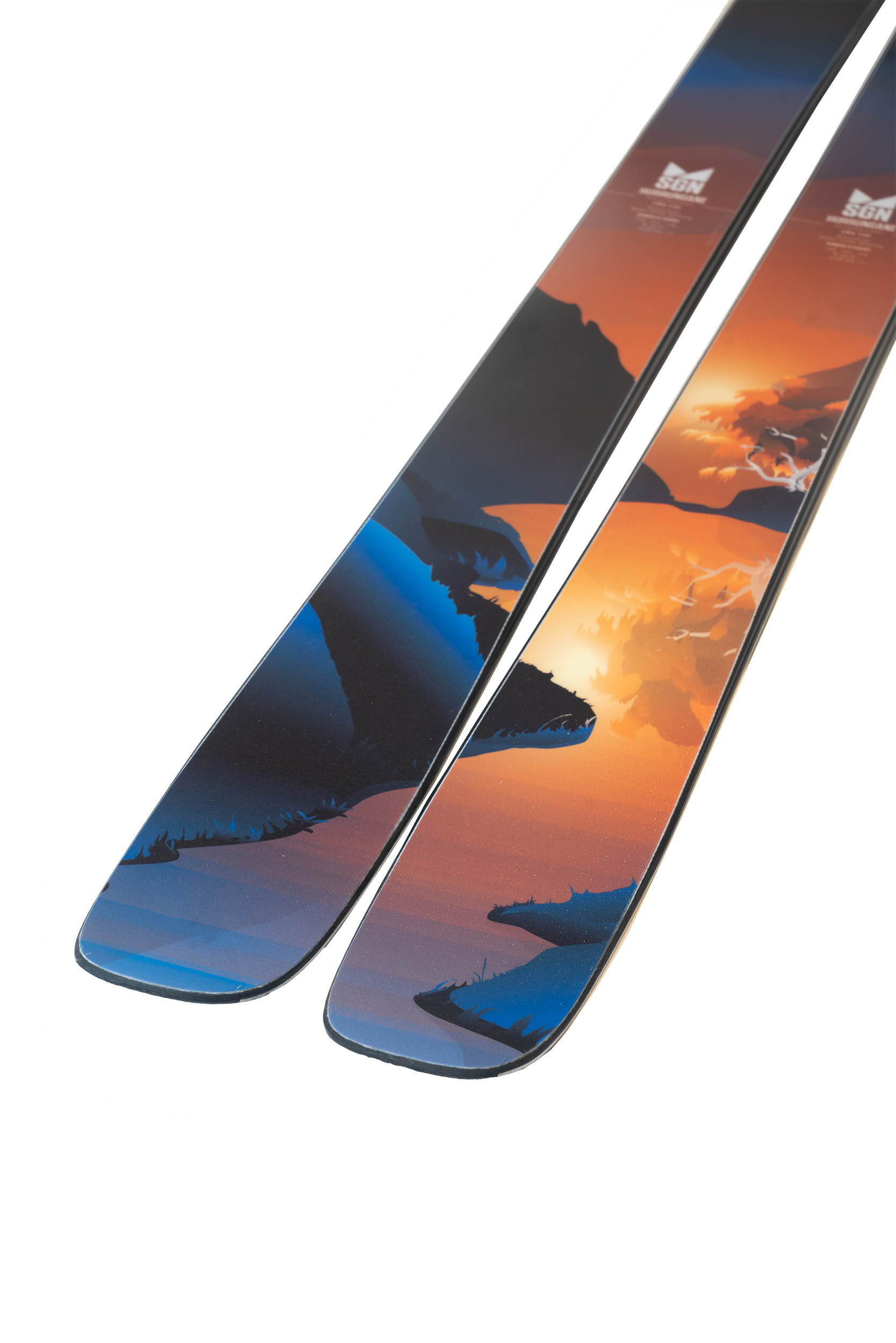 ---
The all new Hurrungane is here to give you even better skiing experiences!
Hurrungane is the perfect allround touring ski, and with its improvements to weight, maneuverability and stability, it's even better than ever. The improvements to wood core, core profile and rocker makes Hurrungane light enough to bring to the highest peaks of Hurrungane, while still maintaining great freeride characteristics. The ski is developed together with selected mountain guides and freeride skiers to be the perfect all mountain touring tool. The skis are built in Sweden, with a full wood core consisting of bamboo and caruba . A longer rocker and taper in the tip and a low camber makes the perfect combo for changing conditions during the same ski tour.
✓ Free shipping and returns on all skis (Norway)

✓ 30% discount on bindings and skins when purchased with skis
✓ Free binding mounting and skin-trimming
Technical specifications:
167 cm
TIP: 121 MM / WAIST: 101 MM / TAIL: 111 MM
RADIUS: 23 M
WEIGHT: 1550 G
174 cm
TIP: 123 MM / WAIST: 101 MM / TAIL: 112 MM
RADIUS: 23 M
WEIGHT: 1610 G
182 cm
TIP: 126 MM / WAIST: 101 MM / TAIL: 113 MM
RADIUS: 23 M
WEIGHT: 1710 G
189 cm
TIP: 128 MM / WAIST: 101 MM / TAIL: 115 MM
RADIUS: 23 M
WEIGHT: 1805 G

With a thinner and lighter wood core than our traditions skis its designed for long days touring. The shape of the tip will also help reduce drag when skinning up.
A traditional cambered design gives you stability and versatility on any condition. On hardpack a camber design is unmatched.
Designed to suit all skins, with a customizable large ABS plastic tail. There is a small kick in the tail to reduce drag from you skin-clip while touring.

Caruba is a lightweight wood material, while bamboo is a strong, responsive and bouncy wood. Combined it's a lightweight, stable and responsive core.
Our scratch free top sheet is developed to endure the abuse your skis go through. Its pattern is design to not collect snow while touring, reducing the weight on each foot.
The ski has a durable Okulen 7150 base ready to handle all conditions.
A sandwich construction delivers uncompromised power transmission and exceptional torsional stiffness in a durable long lasting package.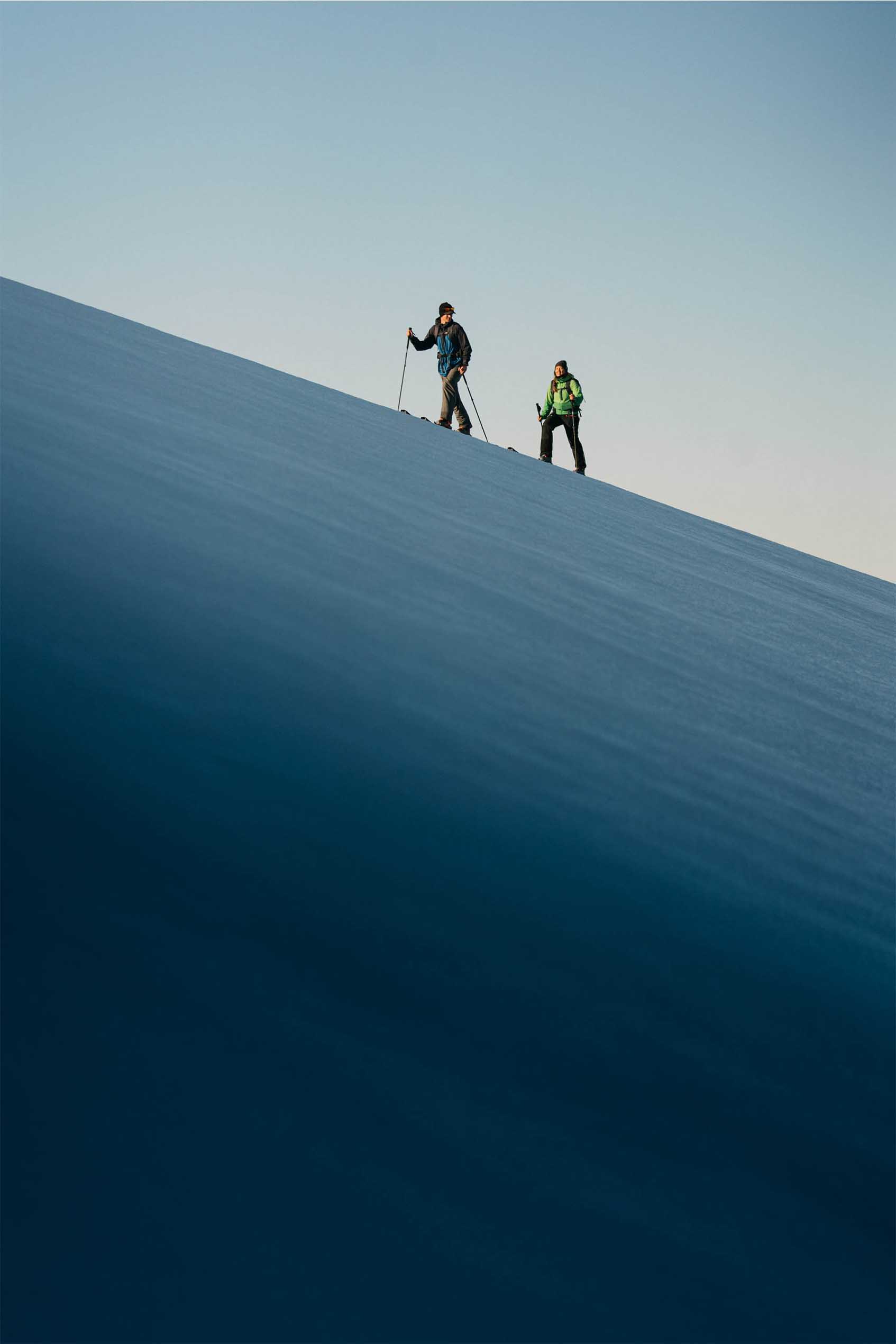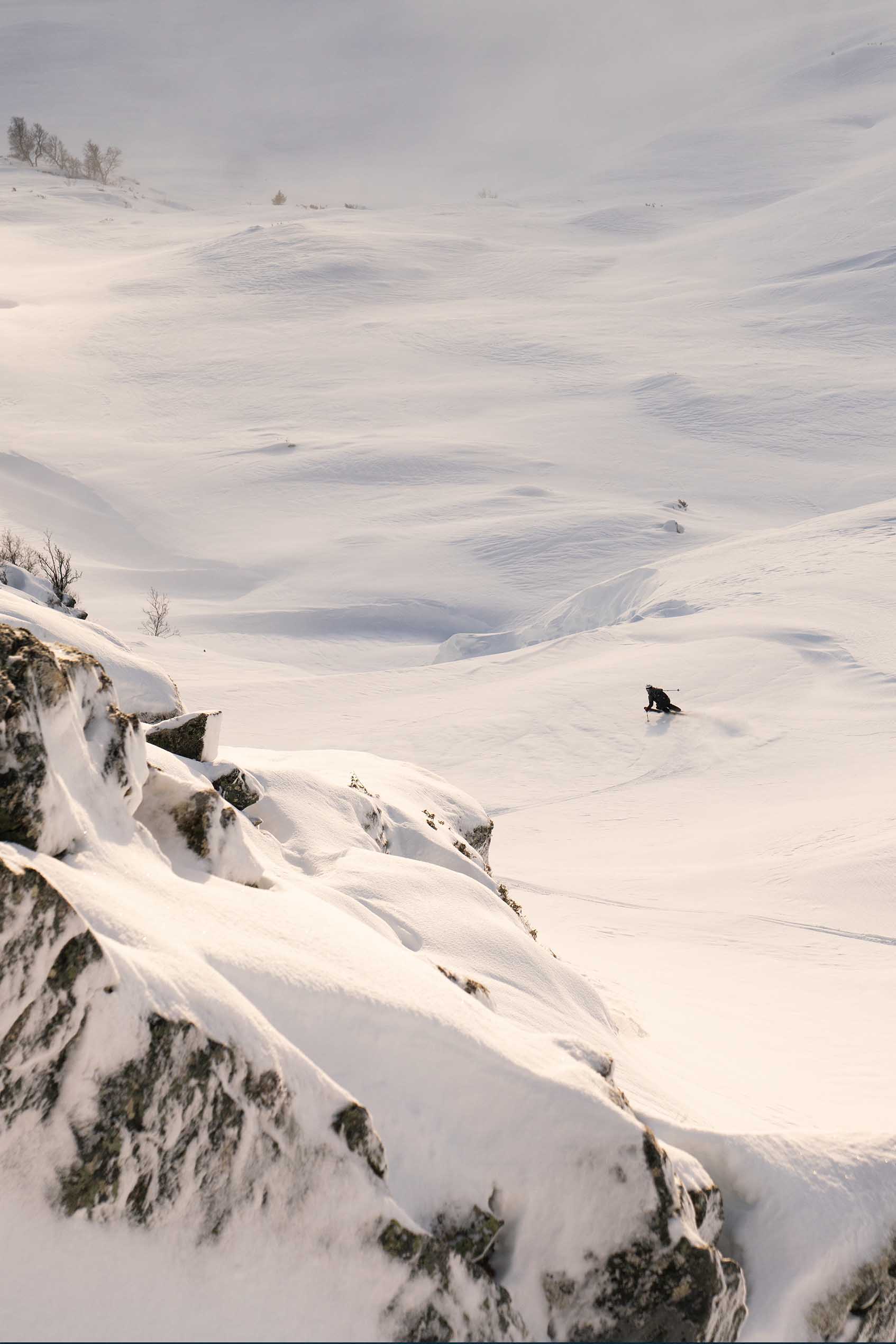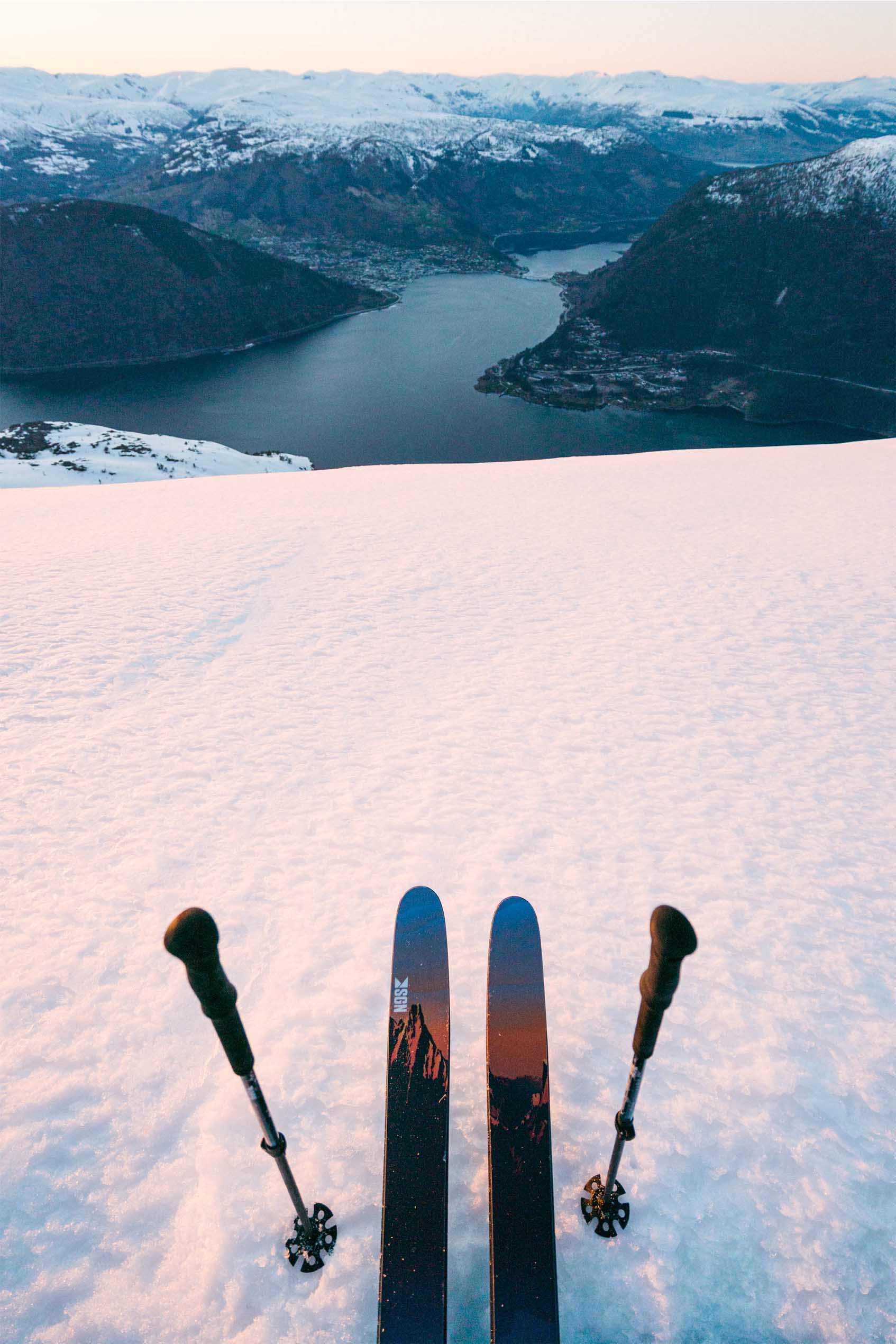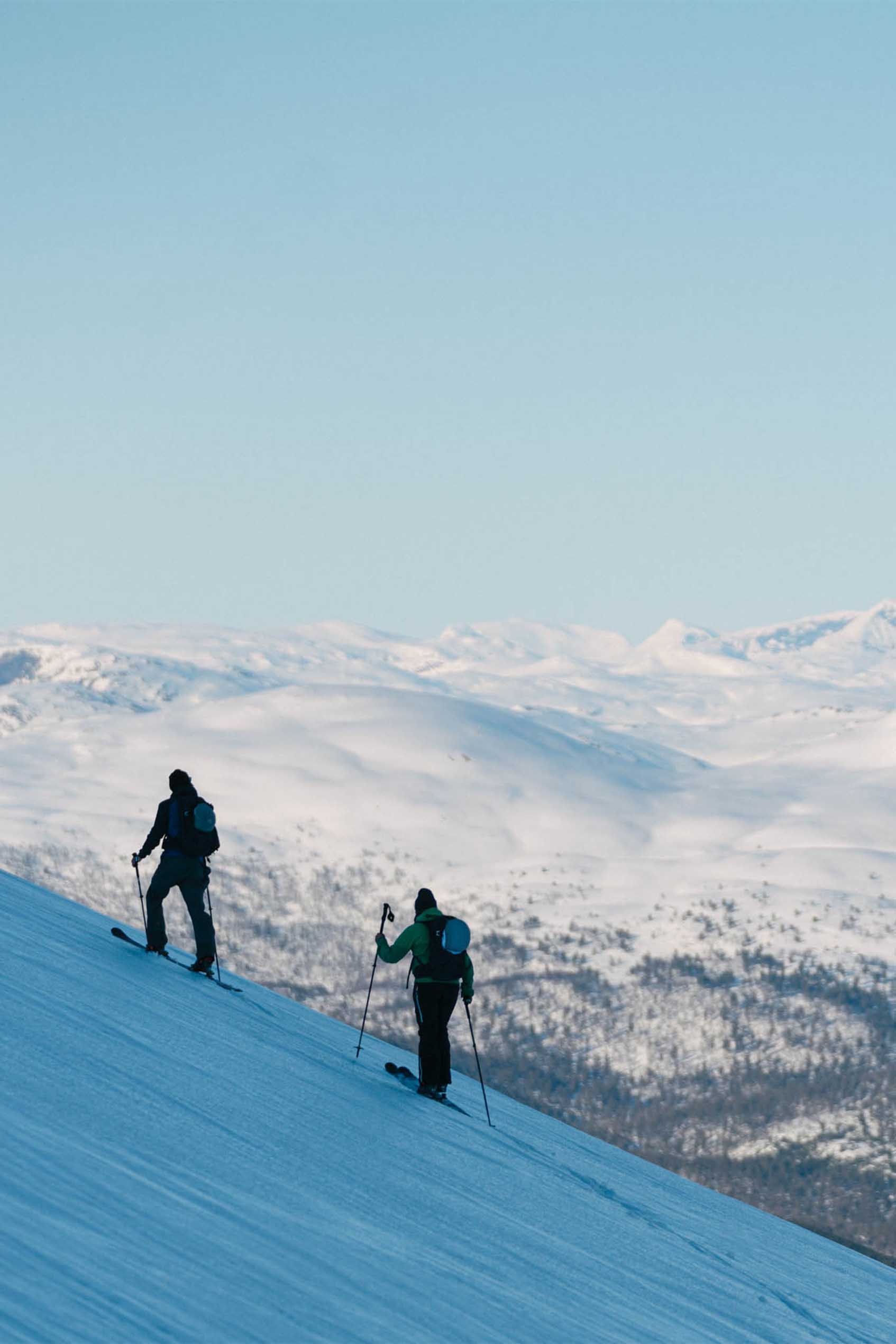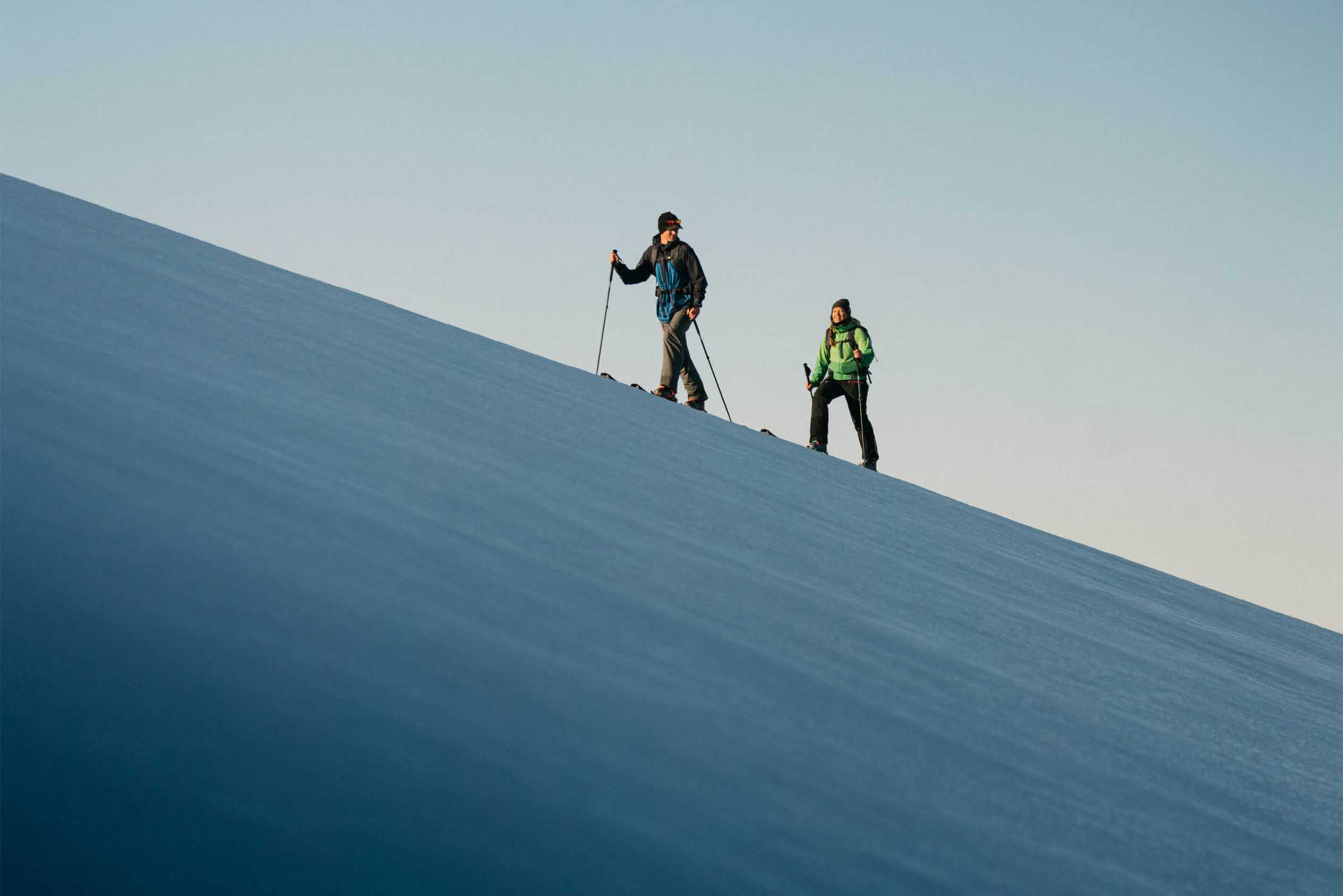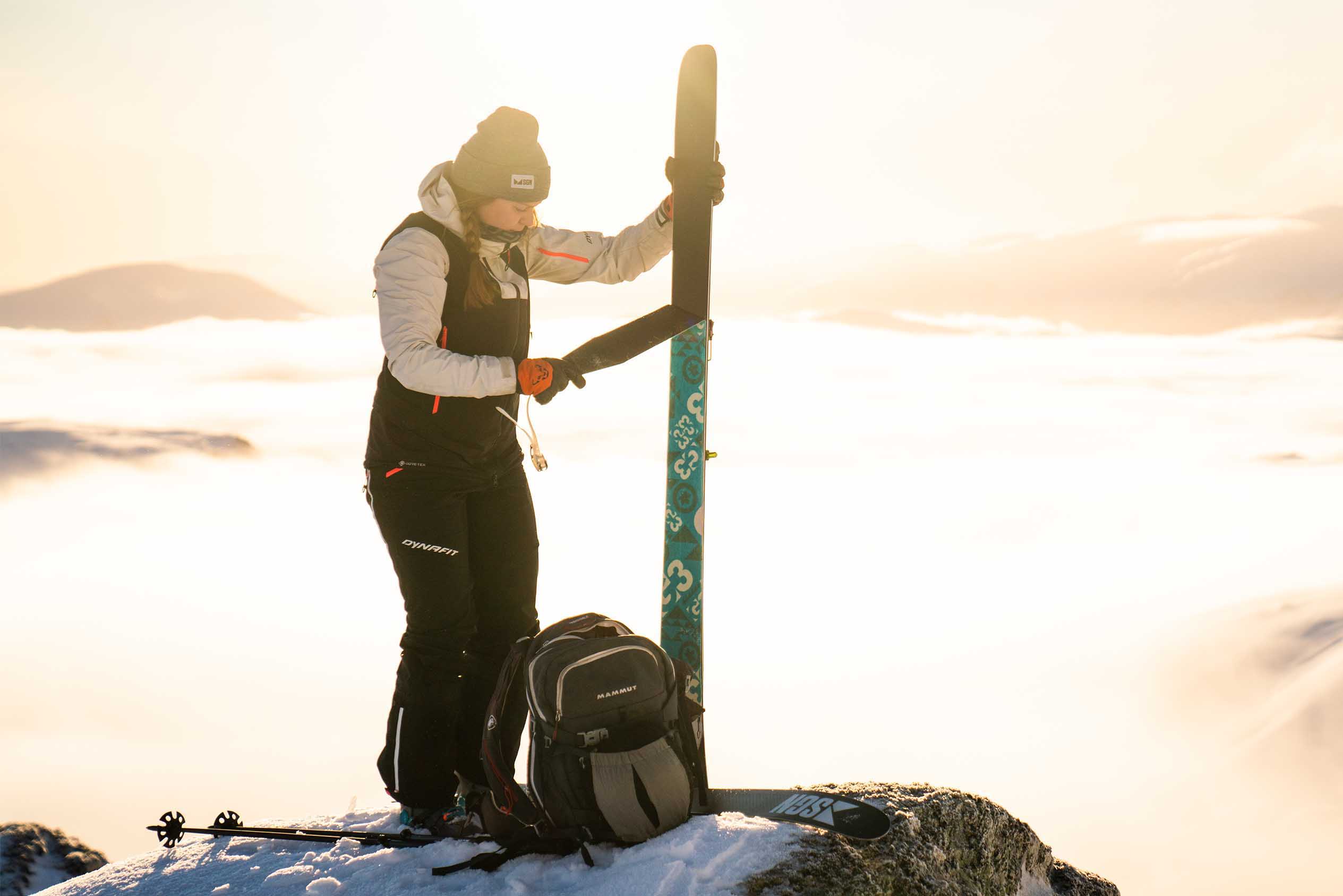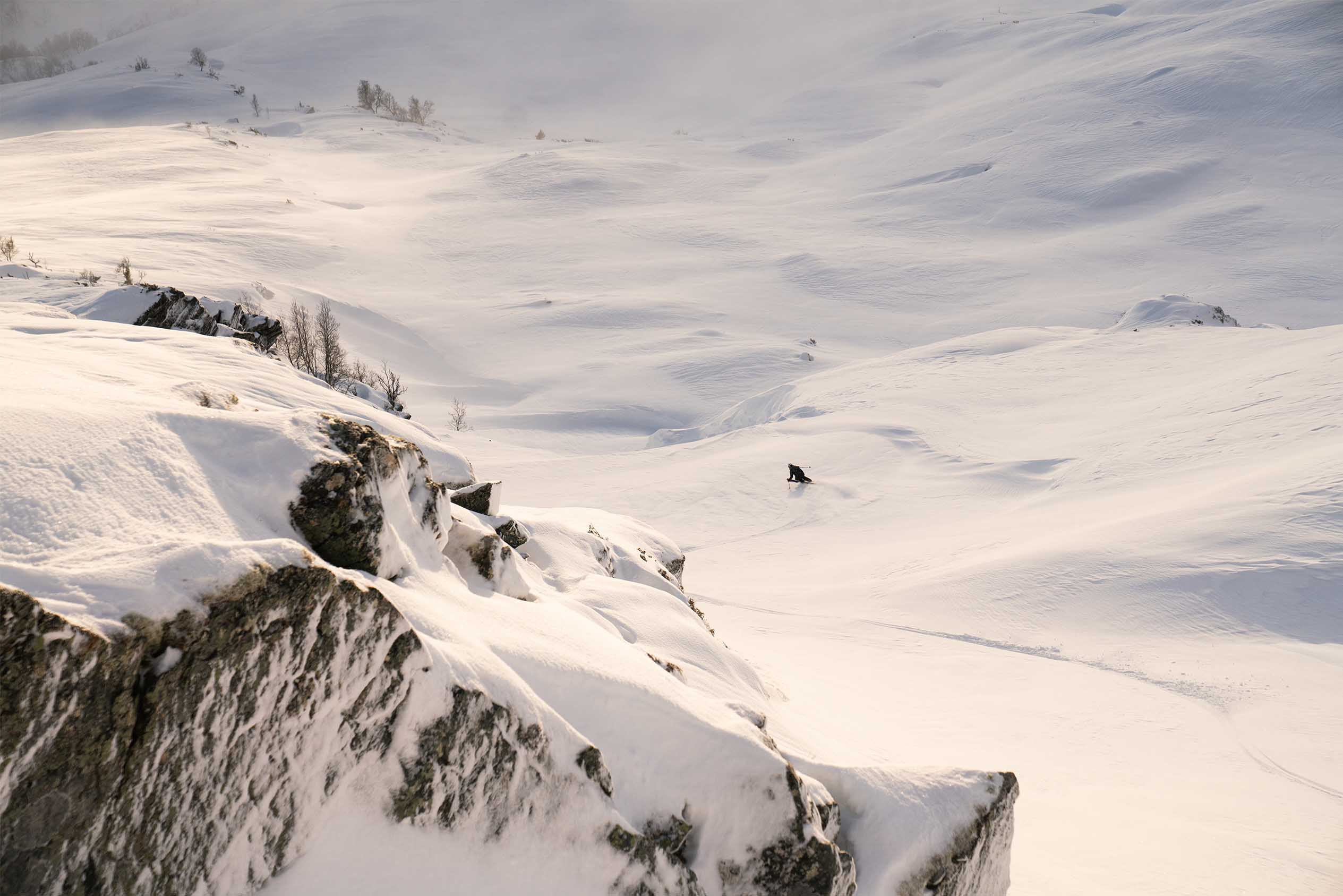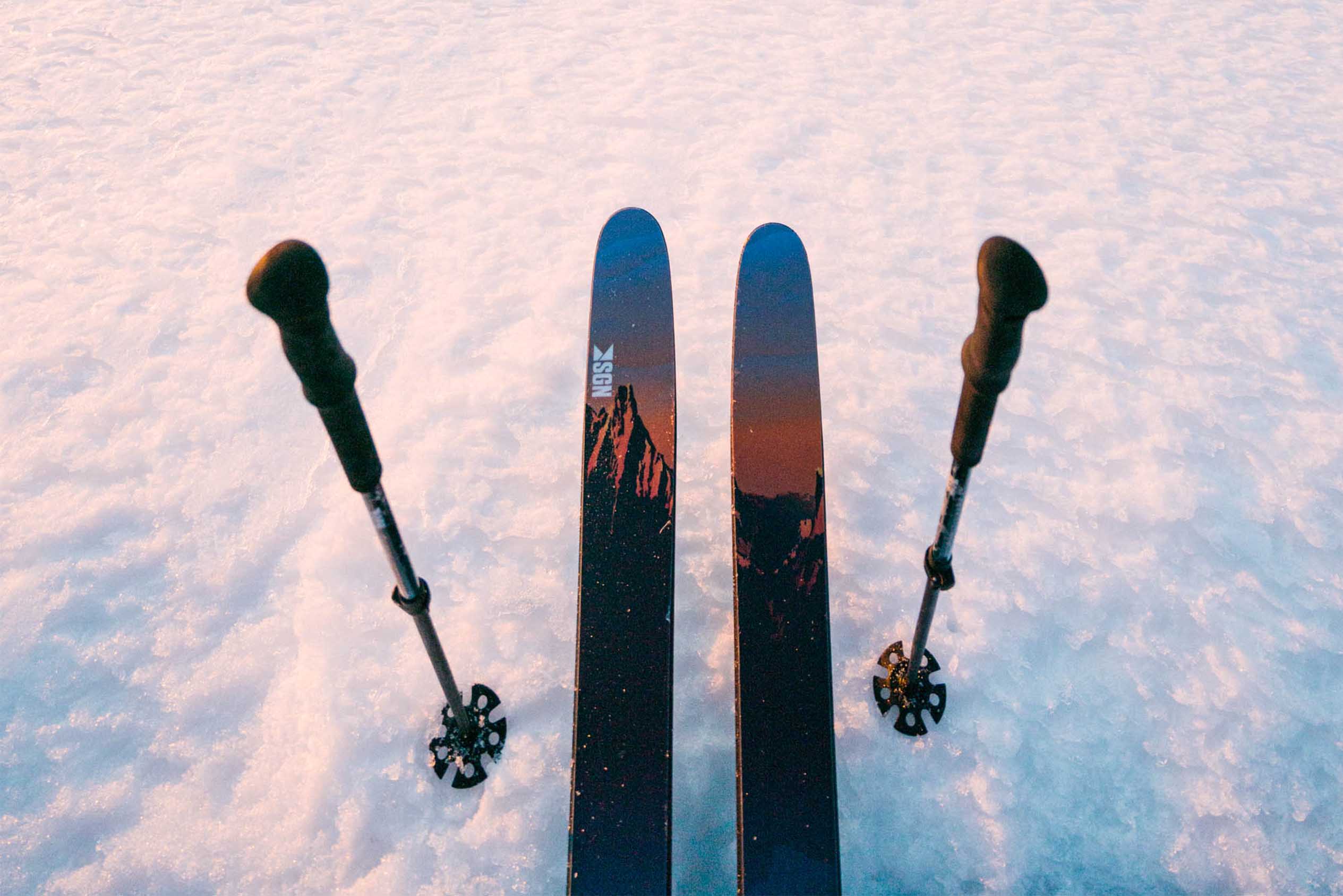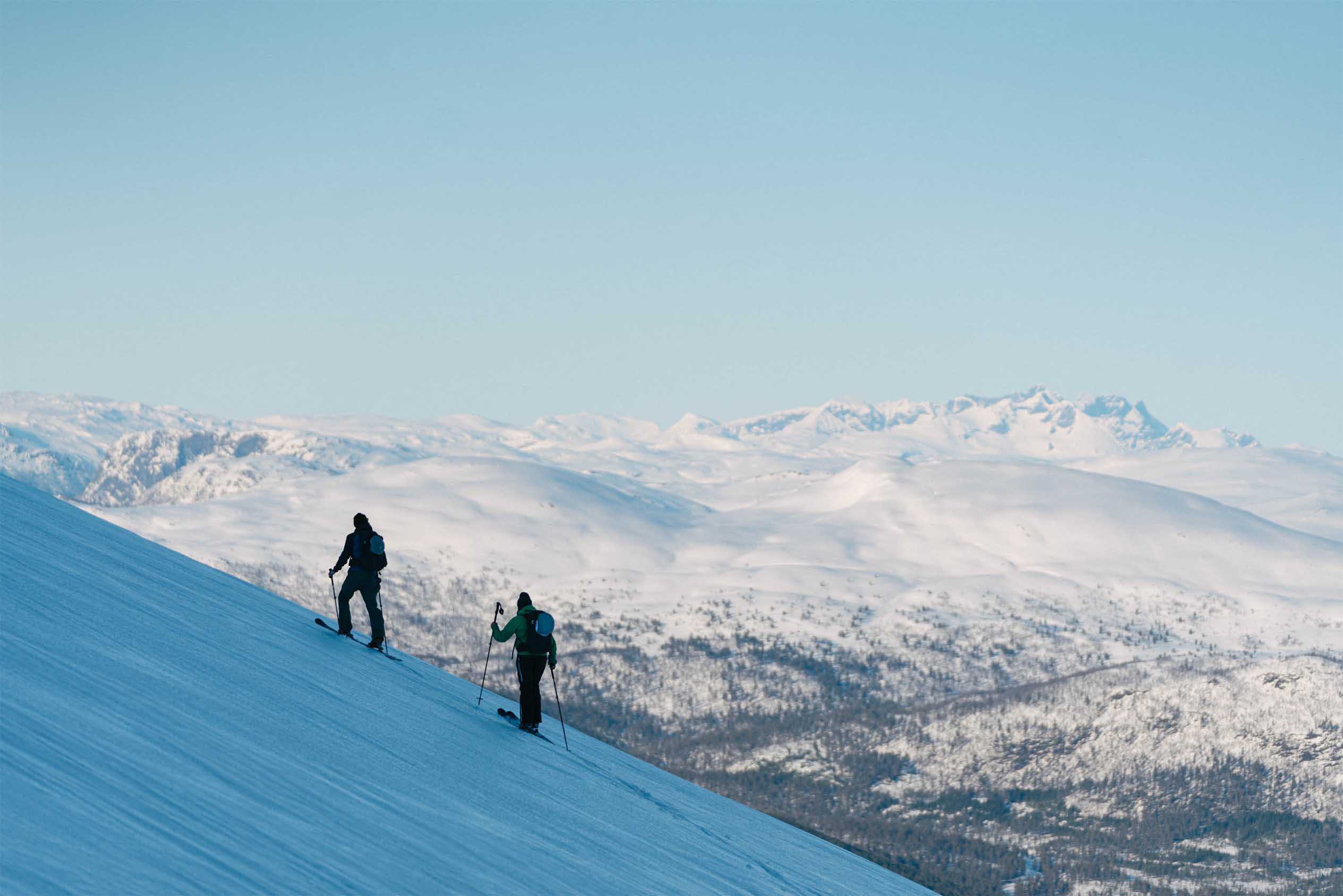 Graphics by Rikke Vidde Westvig
The graphics are from Hurrungane, the westernmost mountain range in Jotunheimen, and one of the most alpine mountain regions in Norway. A region close to our heart. It's the famed Store Skagastølstind that adorns the front of the ski.

Purchase skis with bindings or skins and we will give you a 30% discount on the accesories.

Recommended bindings, skins and accessories
Hurrungane is a high performing touring ski, and should be paired with light and sturdy touring bindings. Below we have curated a selection of bindings perfect for this ski.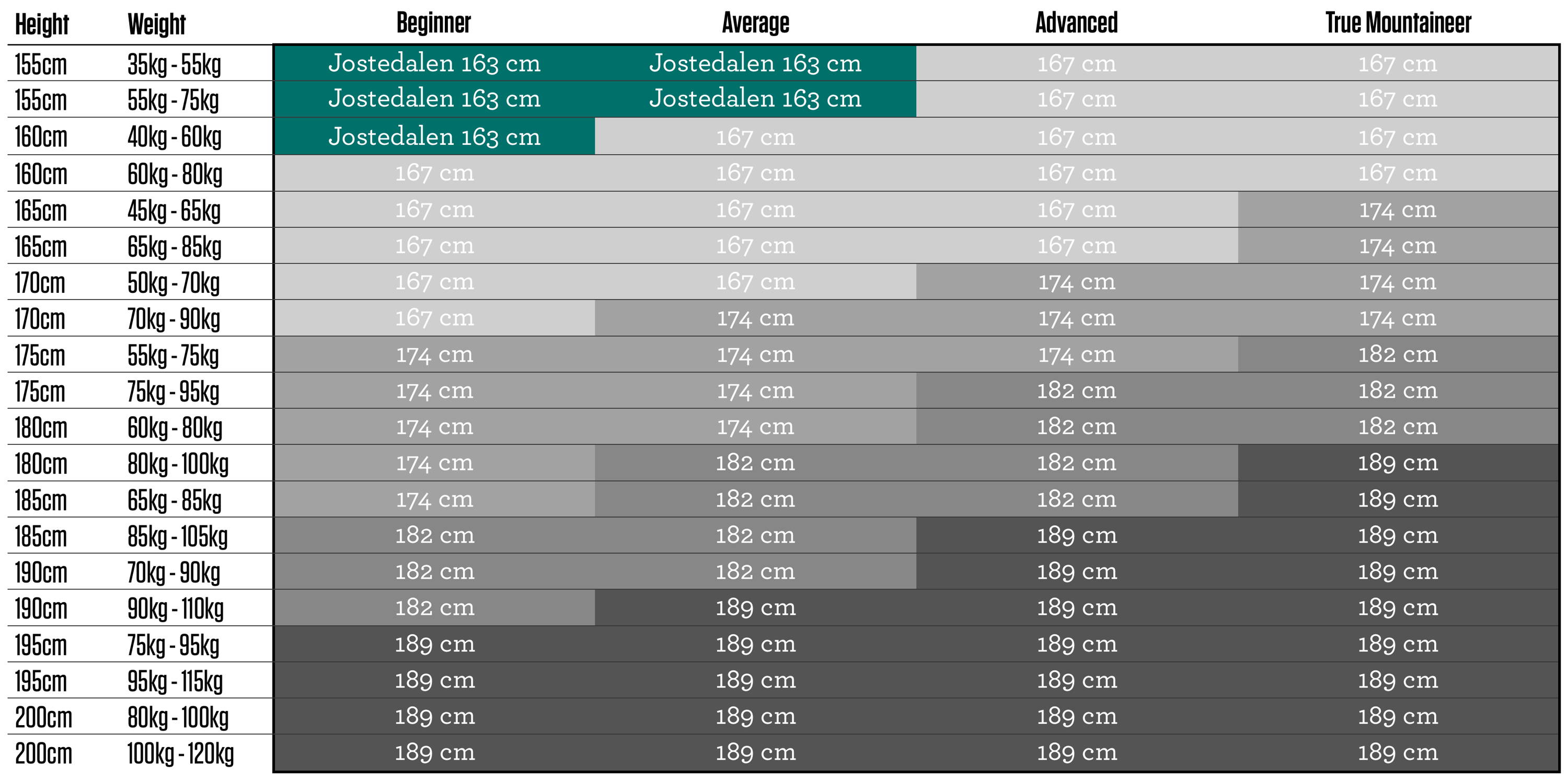 To properly mount bindings on this ski, the boot center should be in line with the "mounting point" line on the ski. The location of the mounting point is or recommendation for normal skiing.
For additional details, please refer to our mounting guide >
What is the difference between the new Hurrungane and last years model?

When developing the new ski, we had three major focuses: lighter, more playful, and easier to ski. So the changes on the ski are a result of those focuses. And of course it has some new awesome graphics by Rikke!
How does "shopping skis online" really work?

It's easy! When you have found the ski, binding and skin-setup you want, you add them all to the cart. Remember to supply the mm-lenght on your boots so we get the mounting right. The skis are then mounted by us in Sogndal, and shipped to your home! If you are ever in doubt, just reach out to us in the chat or by email!
What other skiers have to say about this ski!